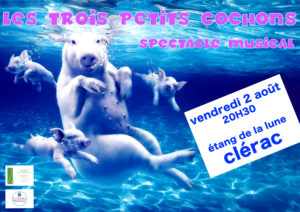 The association Teurlay Environment Theater invites you to attend the show LES 3 PETITS COCHONS, performed by a troupe of Clérac children and neighboring municipalities.

This theatrical and musical adaptation of the famous tale is the result of the theater, singing and writing workshops conducted with children by Philippe Peychaud and Mélissa Zantman, the association's artists. Mélissa will provide the musical accompaniment of the accordion show.

But which version of the story will the children have chosen? Where the 3 little brothers help each other? The one where they are eating? The one where the wolf goes to the pan?

The pleasure of playing may well make them forget the reality, and their houses are not strong enough ...

Come and help them make the best decisions FRIDAY, AUGUST 2 AT 8:30 PM at the edge of the Pond of the Moon in Clérac.
Free show offered by the municipality.